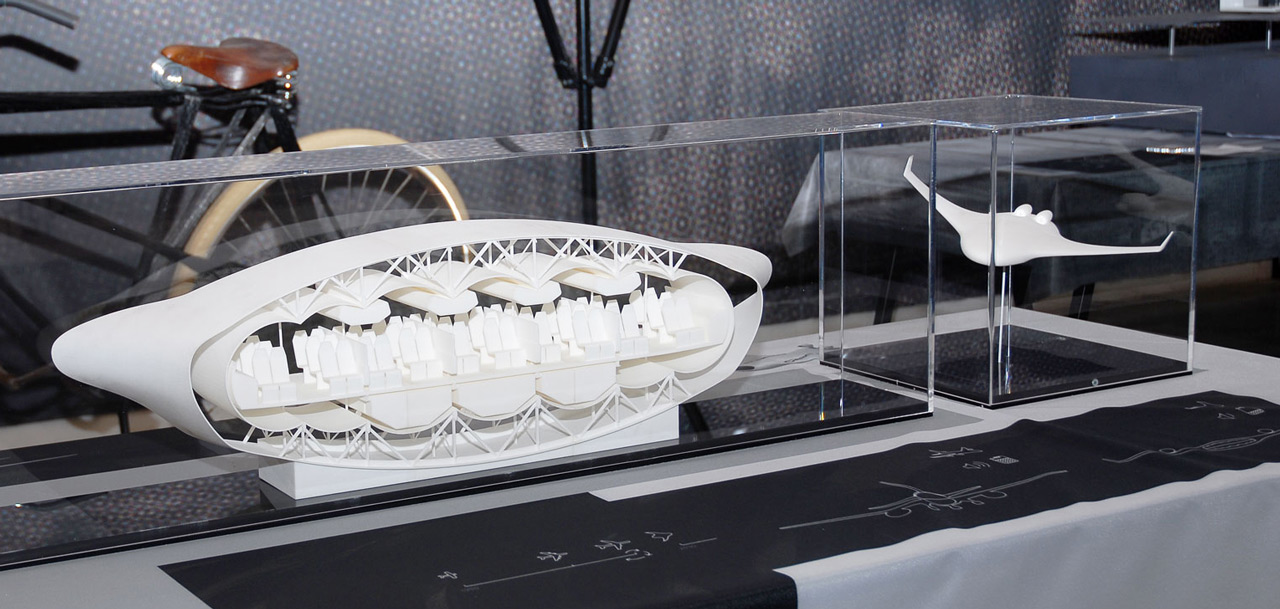 My aircraft interior concept was part of an exhibition by Premsela (now: Het Nieuwe Instituut) that traveled through India (2011), China,  Germany, the Netherlands (2012), Turkey and Brazil (2013).
I feel proud that my work was part of this amazing collection. Two 3d-printed models were sent for display at the exhibition: an exterior model of the blended wing body aircraft and a cut-section of the aircraft showing the passenger cabin and structural topology.
According to the curator: "The exhibition Connecting Concepts penetrates the surface of Dutch design to look at how ideas combine to create not only singular objects but also a singular design culture.
The 30 objects in the show have much to say about design concepts, processes and disciplinary cross-pollination in the Netherlands. The sharing of process through ideas, technology and materials gives Dutch design its seeming coherence. This same tendency also often alienates foreign design cultures. By revealing and analysing what makes the Dutch design process tick, Connecting Concepts will help people to better understand Dutch design on the physical and intellectual levels." <premsela.org>
Opened the 8th of february 2011 at NID in Ahmedabad, the exhibition (by Bertjan Pot+Joost Grootens) also included work of Richard Hutten, Thonik, NL Architects, Monique van Heist, Senz Umbrellas, Ted Noten and Marcel Wanders.
More information:
National Institute of Design, India
The models were also shown on Indian national television, a video of that can be found here